Scaffold design software for the scaffolding industry

Strike Alpha Estimator edition manages all your enquiries through estimating to a professional quote package with TG20 compliance checker... more
Strike Alpha Estimator


This is the Strike Alpha Estimator edition plus contract management, handling enquiries from estimating to work-in-progress to invoicing... more
Strike Alpha Team


This is the complete package for companies managing complex longer-term contracts requiring valuations and applications for payment... more
Strike Alpha Corporate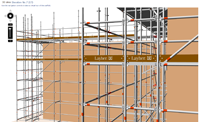 Create scaffold drawings in Layher Allround®, and check compliance with the Layher Ltd UK technical guide. Produce vehicle loading lists and prepare design briefs for Layher technical department. As an option, price and quote the job in Layher Allround®. All directly from your own PC.
The only software officially endorsed by Layher Ltd.
Call us on 0845 345 7108 to place your order.
Photo credits:
AMS Scaffolding, Dubai
J & I Scaffolding Ltd, Edinburgh